In October, business process professionals from around the globe came together in Houston for APQC's Annual Process Conference. This year's event—titled Breaking Barriers to Change with Quality-Driven Processes—highlighted best practices and lessons learned from organizations that are transforming the way they do business by emphasizing the people, processes, tools, and infrastructures essential to organizational improvement.
Browse Conference Highlights
Conference Summary - Session Presentations (members only) - Session Overviews - Facebook Photo Album - Conference Brochure - Special Thanks - Testimonials
Conference Summary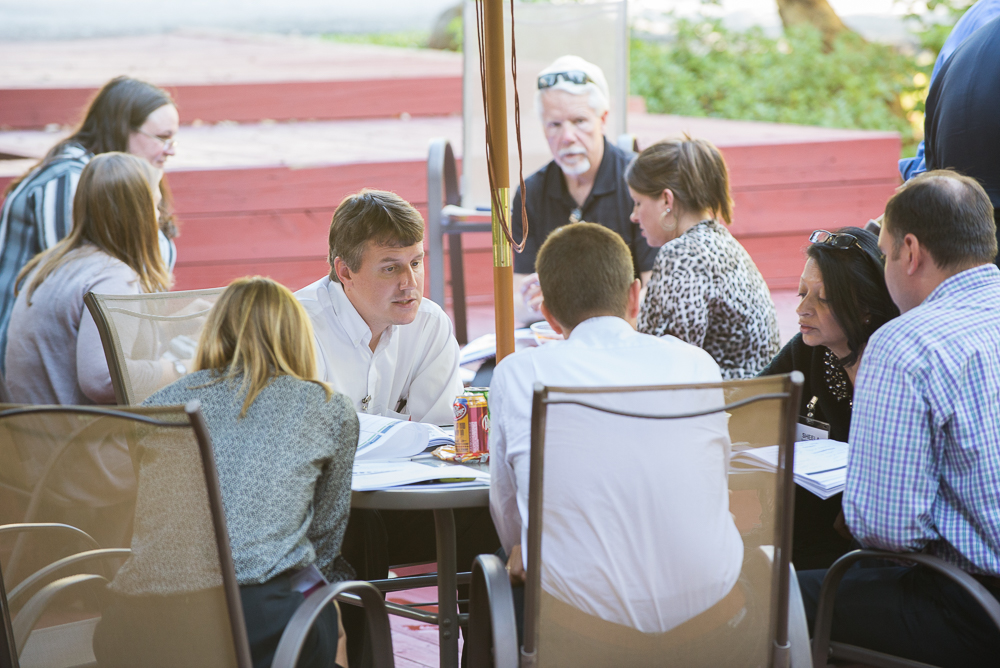 The conference week kicked off with three full days of workshops. Attendees chose from eight different courses that covered the latest in BPM and related concepts. Whether you wanted to learn the basics or dig deeper with newly developed courses like "Building an Enterprise Quality Ecosystem," we had something for everyone. Even through a power outage on the last day of workshops, attendees and instructors kept the learning going while enjoying the beautiful weather ou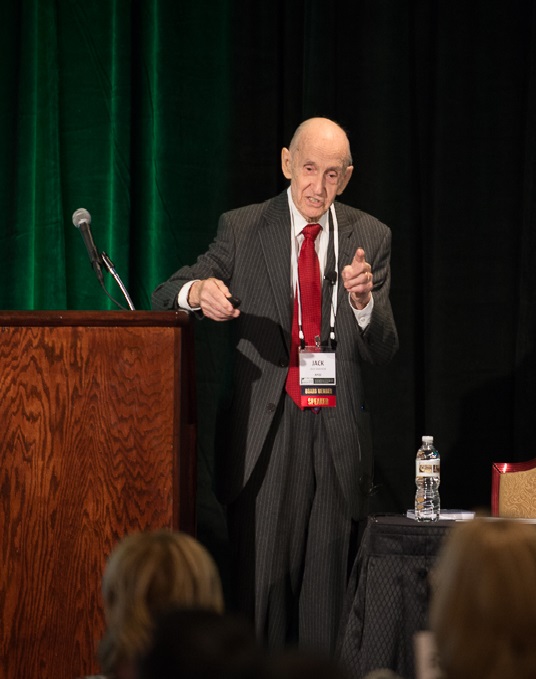 tside. Day one of the conference was opened by APQC's founder Jack Grayson with a keynote address on the role that process, productivity, and quality play not only in improving an organization's standing, but also in the competitiveness of a nation. During the keynote, Grayson discussed key ideas necessary for improving the organization's competitive status including:
Focus on process rather than outcomes.
Balance top-down management with bottom-up entrepreneurship.
Integrate the paradigms of the industrial age (characterized by command-and-control management, functional silos, focus on outcomes, and individual achievement) and the process age (characterized by decentralization, employee empowerment, focus on process, and collaboration).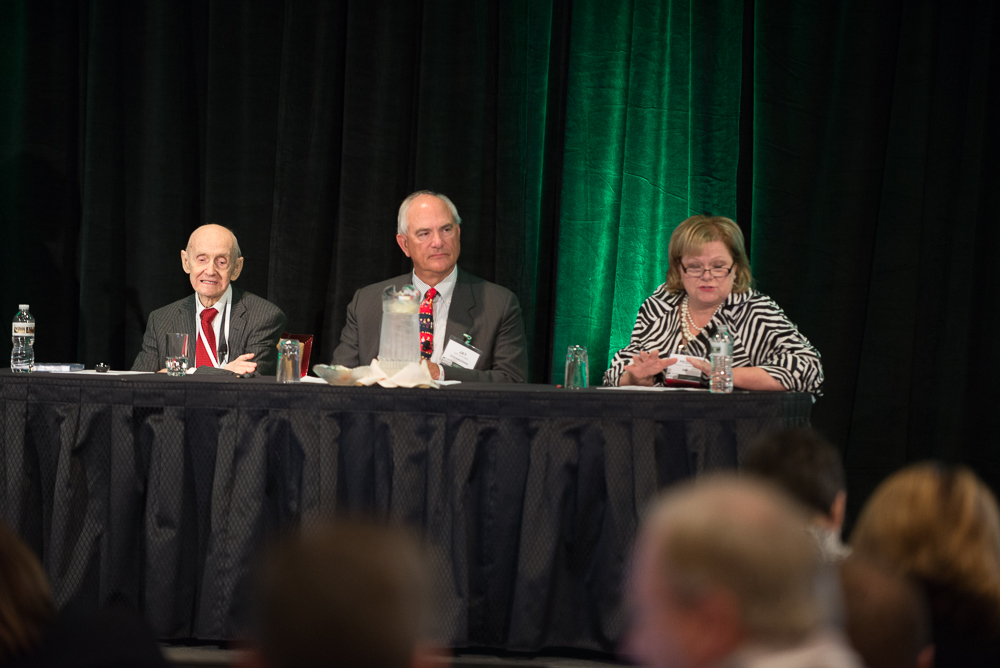 Following the keynote, APQC president Lisa Higgins moderated a panel with Jack Grayson, Peggy Vaughan of IBM (retired), and T. Jay Collins of Oceaneering International, Inc. The panel responded to questions on process, productivity, quality, and effecting real change. At the conclusion of the panel, Grayson, Vaughan, and Collins each provided their own "two minute warning" to the audience. These takeaways highlighted a range of issues, from ensuring value to the customer to the need to be as flexible and innovative as the Millennial generation.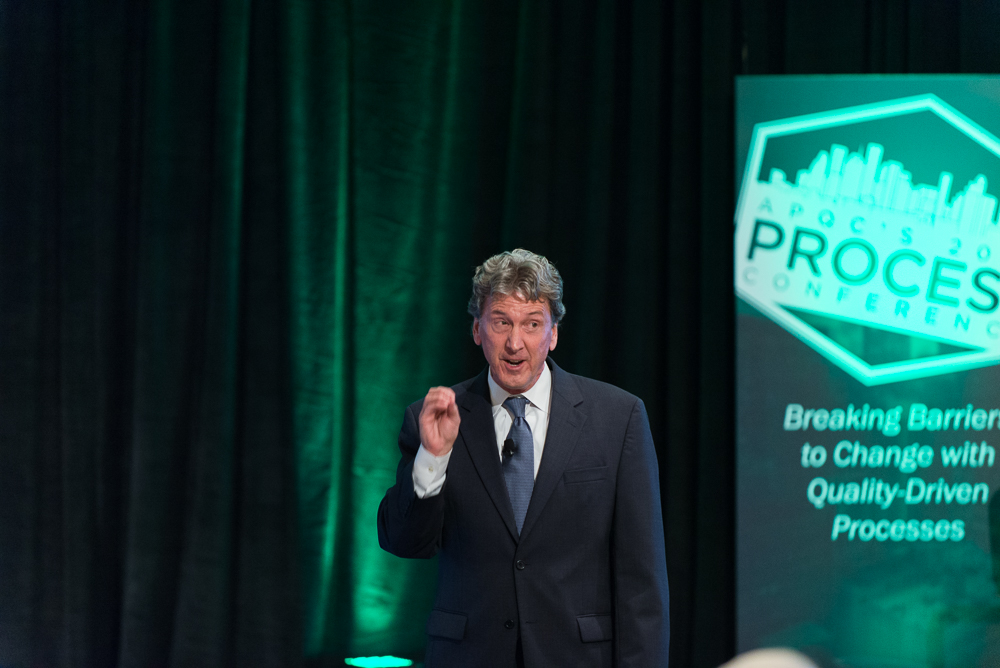 David Shaner, founder and principal of CONNECT Consulting, LLC, delivered the second keynote address. His talk—loosely based on his book The Seven Arts of Change: Leading Business Transformation that Lasts—explained why it's so difficult to get people to buy in to change, and offered some ideas leadership can take to create sustainable change. Shaner explained that the culture of every organization is found in the mind of each employee and stakeholder. In order to significantly change organizational culture and performance, leadership has to change its employees' behaviors and mindset.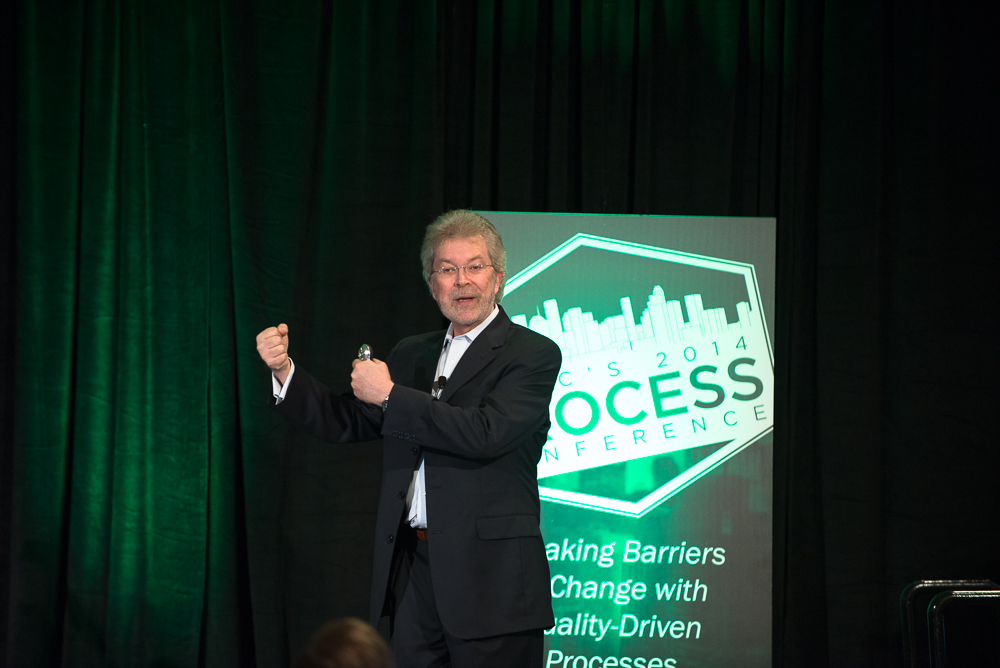 The final keynote speaker, Randy Pennington, president of Pennington Performance Group, opened the second day of the conference with his presentation on an important shift in the business environment. According to Pennington, change no longer influences the environment, change is the environment. Today's change initiatives don't fail because of faulty models, they fail because of faulty leadership. The most common barriers to change have to do with leadership (lack of accountability, no buy-in, lack of resources, or trying to accomplish too much at once). Pennington explained that we need to "change how we change" in order to overcome these issues. He recommended that organizations discern the perspective and motivations of employees, understand the relationship between actions, habits, and culture change, and embrace the opportunities provided by resistance. In his conclusion, Pennington emphasized that leadership must "go first" in changing how the organization approaches change.
To wrap up the conference, attendees participated in a Collaborative Café where they organized themselves into round-robin conversation groups focused on four different topics: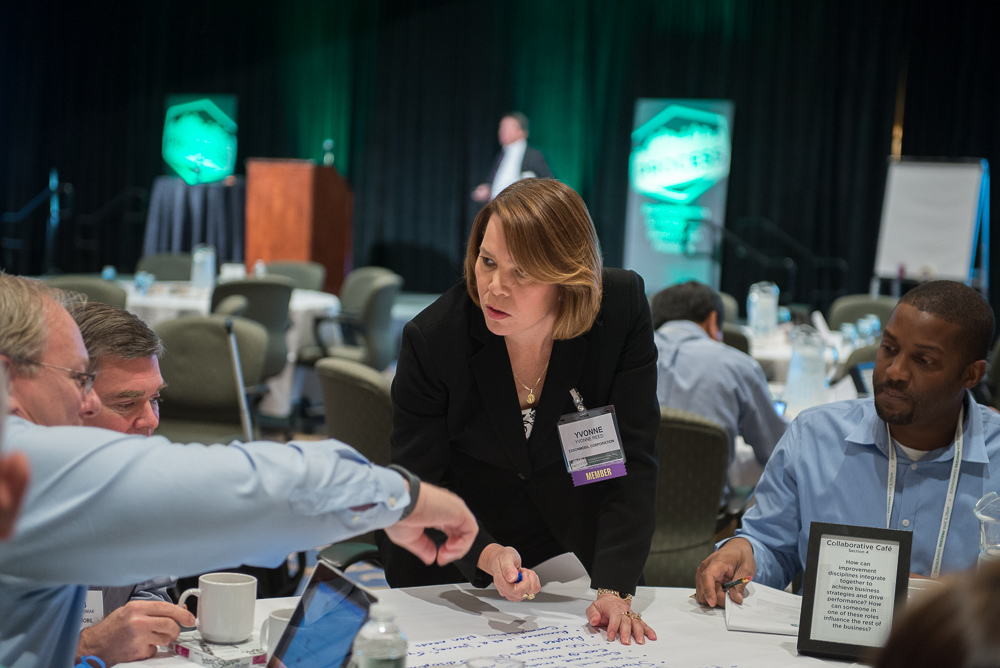 Identifying and connecting workers within a process
Engaging your workforce with process thinking
Influencing a culture of excellence with quality management
Integrating process, quality, and other disciplines
The groups were given the freedom to collaborate in their own ways, but were encouraged to talk about what they had learned over the two days and how they would apply these ideas when they got back to their own organizations.
In addition to these keynote and general sessions, 18 breakout sessions were held throughout the conference. Practitioners shared case studies detailing their successes and lessons learned with our audience. Learn more about the leading process improvement initiatives at Cisco Systems, Inc., Royal Philips, GM Financial, Rockwell Collins, and many others, by checking out the conference overviews and full presentations in the APQC Knowledge Base.
---
Special Thanks to Our 2014 Process Conference Steering Committee
The following APQC members and partners for helping drive the agenda and educational content of this meeting.
Venky Gopalaswamy - Royal Philips
Misol Gaston - Pepsico Internacional Mexico
Randall Rogers - Kraft Foods North America
Lynda Braksiek - Rockwell Collins
Sumeit Aggarwal - Hologic, Inc.
Sondra Holt - WPX Energy
Chandra Bradley - Visa
Kily Seaman - Chesapeake Energy Corporation
---
Testimonials
"A very well attended event with a diverse industry representation. A great networking opportunity to validate our journey to excellence. The APQC staff was very engaging, friendly and helpful." - Randy McCloskey, Cameco Corp.
"I was very satisfied with the conference. I am going to recommend some of my team attend an APQC conference in the future." - Andy Andris, Cherokee Nation Businesses
"This was a very enlightening and reinforcing conference. I especially enjoyed the talks from the keynote speakers and Jack Grayson. Too many of our conferences these days are tactical; this one was distinctly different in focusing on inspiration, people, and excellence in process management." - Dale Weeks, Global Leadership and Benchmarking Associates
"Great conference and exceeded my expectations." - Timothy Allen, Project Consulting Group
"It was nice to be in a conference with process professionals that (mostly) all spoke the same language." - Mark Miranda, HISD