Connecting People, Process, and Technology for Results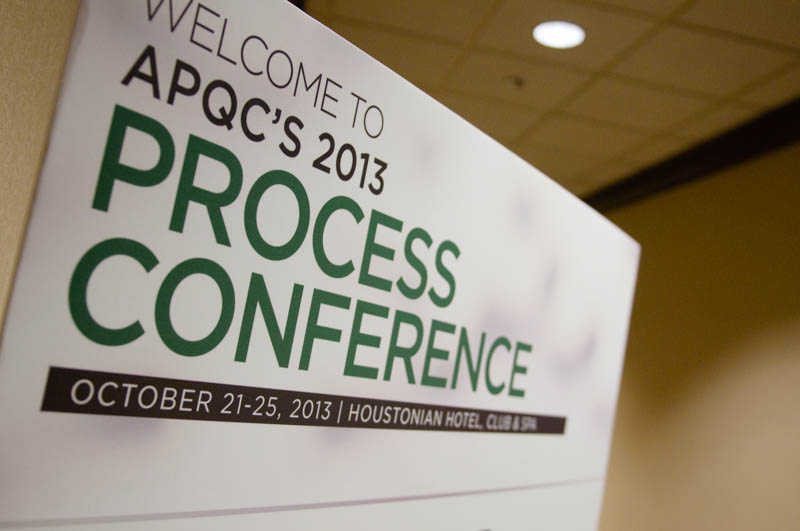 After a week of pre-conference workshops and conference sessions, APQC's 2013 Annual Process Conference officially closed October 25 in Houston, TX. Thank you to all of the participants, both speakers and attendees, for making this year's conference a huge success. Attendees from around the world, representing more than 20 industries, joined to find out how to connect people, process, and technology for results.
Whether you attended the conference or you're curious about what you missed, learn more: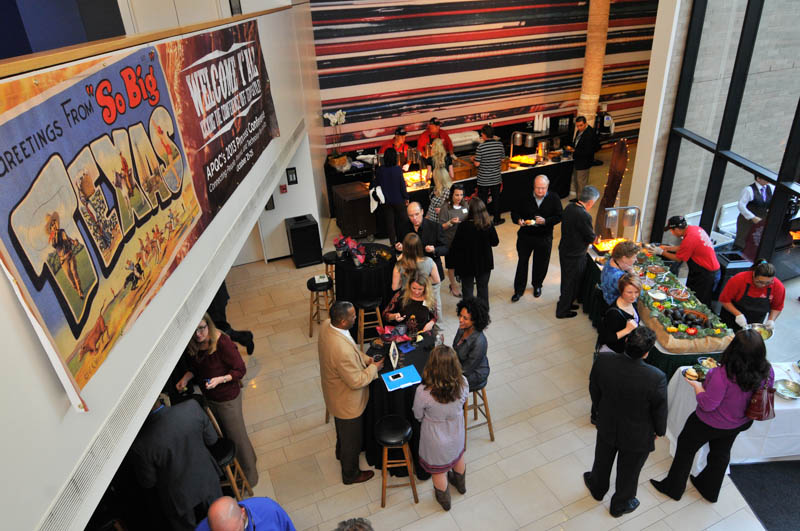 The week kicked off with pre-conference process management workshops, mostly all filled to capacity. Workshop participants grew their knowledge and understanding of process management core skills led by APQC's skilled instructors. At the end of the last workshop day, participants joined together with conference attendees just getting into town for a Texas-style networking reception complete with country music, barbeque, and a Tex-Mex favorite, guacamole.
Day one of the conference started with Brian Muirhead, Chief Engineer for NASA and author. Attendees learned that true innovation comes when the box of constraints is tightly drawn and that amazing, once thought impossible, things can happen when you've got exactly the right people sitting in exactly the right spots on your team.
Roger Burlton, Founder and Chief Consultant BPTrends Associates, presented Thursday afternoon's keynote, taking the enterprise level view of process. He encouraged the audience to start and end each process with the customer and make sure their time and resources are spent making those processes that add the most value to the business truly world-class. Core, functional processes should already be best-in-class or we're already falling behind.
Jeff Varney and John Tesmer, APQC subject matter experts in BPM led an interactive workshop Thursday afternoon around enterprise architecture. As process management initiatives become less and less grass roots and increasingly enterprise-level and strategic in nature, the term "enterprise architecture" is now in vogue. Jeff and John led a group think exercise to scope the definition of enterprise architecture and the characteristics of organizations engaging in true enterprise architecture. Takeaways from the session are being reviewed and will be presented in an upcoming webinar as well as documented in a white paper to be released into the APQC Knowledge Base soon.
On day two, Sandy Kemsley, well-known independent BPM analyst, kicked the day off by providing insight into the rapidly changing world of knowledge management and social technology's role in process management.
In addition to the two days of keynote and general sessions, real-life stories from some of today's leading organizations were shared during 16 breakout sessions. We heard from organizations like AARP, Intel, KPMG, Regis Corporation, Wipro Technologies.
Since we run four concurrent breakout sessions at a time, the conference concluded on Friday afternoon with a wrap-up session led by skilled facilitator, Elisabeth Swan. After each breakout session, speakers and attendees were asked to jot down their key takeaways. Those takeaways were summarized and themed, then presented during this wrap-up giving attendees the opportunity to actually learn from every breakout session.
To learn more about the process journeys of all of our breakout session presenters, check out the presentations in APQC's 2013 Process Conference Collection and the overviews from each session in Overviews from APQC's 2013 Process Conference Collection.
---
A Word from Our Conference Sponsor

A special thanks to our 2013 Process Conference sponsor! St. Charles Consulting Group was a significant contributor to the rich content that was presented during the conference. We asked them to recap their conference experience, here's what they had to say.
"What a success! The 2013 Process Conference was a perfect venue for St. Charles Consulting to collaborate with APQC members, conference attendees, and the staff. In addition to collaborating with great process thinkers we took this opportunity to validate existing positions and explore new ideas in the area of Process Visibility. When listening to attendees from around the world, we heard a few common themes that are worth repeating.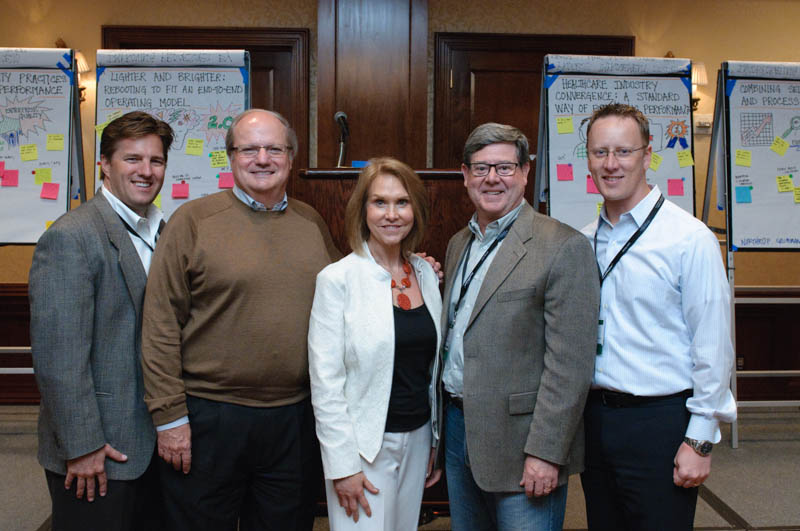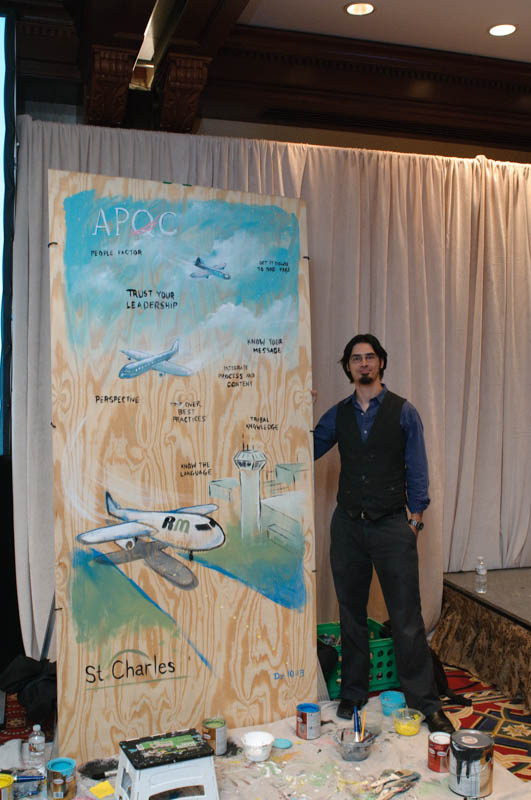 Process Visibility increases by placing content directly in the pathway of process forcing users to 'trip over it' – By making users trip over key content that they should consider to support their role and organization can reinforce the definition of a common language.
Displaying processes from the top down and tailoring the perspectives or views can reinforce process adoption and adherence. Professionals at all levels of the organization (Executive, Manager, Supervisors, Workers) should be able to understand the process in the context of what they need to lead, how they need to manage, or what they need to perform.
Technology should be an enabler for people and process allowing increased process visibility and access to content. Tools that align content and process should be easy to install, configure, and use.
We are looking forward to developing the relationships forged at the conference and participating in future APQC Process and Knowledge Management events. Excited for the future, St Charles Consulting Group is continuing to focus on leveraging technology like RapidMapper™ and other tools that increase the results for process-minded organizations."
---
Congratulations to all of our conference prize winners. Thank you for participating!
iPad Raffle Winner
This year's iPad content was sponsored by St. Charles Consulting Group. Thanks Samuel Gomes with Corpativo Bimbo for participating in raffle. We hope that you are enjoying your new iPad.
Twitter Contest Gift Card Winner
Paige Kane with Pfizer will receive an Amazon gift card for her Tweets sent out during the conference. Congrats! Keep an eye out for your prize in the mail.
Evaluations Contest Winner
Congratulations, Clinton Coker with The Structure Group. You were the winner of our evaluations contest! Thank you for your evaluation submissions.
---
"The keynote speakers were some of the best I have ever heard! Very engaging and applicable."
"This conference was an absolute eye opener for me. Will have immediate application in my work, and has opened new doors and given me new contacts for future developments."
"Very valuable and very enjoyable experience - as always! APQC did a great job putting together a wonderful event with lots of stimulating discussions. I am very much looking forward to attending next time I get the chance."
"The conference was very effective and well organized. Presentations provided takeaways to be applied in business processes within my area."
"I enjoyed the conference and achieved the goals I set: to learn, connect, and come home with thought-provoking ideas that I can leverage in my new role. Thank you for a great week!"
"The combination of the conference subject and the location (the Houstonian Hotel) was ideal!"
"I really enjoyed it, got specific and tangible value from it, and made connections with people that I wouldn't have been able to without the conference."
"I thought the conference was superb. I enjoyed every aspect of it. I will be recommending APQC's conferences to my organization."
"The keynote speakers were particularly interesting, captivating. Topics were very relevant to issues facing most all businesses, and there were lots of key 'takeaways' with immediate applicability back in the workplace."
"This conference is a must every year!"
---
Thanks to Our 2013 Process Conference Steering Committee
Thank you to the following APQC members and partners for helping drive the agenda and educational content of this meeting.
Alejandro Blanco, Business Process Analyst - Villacero
Jim Boots, Consultant
Steven Boyd, Process Advisor - Chevron
Dave Braun, Manager, Process Transformation Services - Saskatchewan Power Corporation
David Farrar, Program Manager III Business Excellence, Major Enterprise Projects - Eaton Corporation
Juan Gomez Hoyos, ACE Director - Sikorsky Global Helicopters
Marsha Hoyt, Lead Functional Administrator - Hawaiian Electric Industries
Joe Martucci, Performance Lead - PSEG
Sarina Pickering, GGM Quality & Performance Excellence - Transfield Services
Theo Priestley, Independent Industry Analyst and Business Transformation Consultant
Ximena Reynoard, Business Process Manager – Villacero
Mike Rudel, Director of Process Management - Champion Technologies
---

Get the most up-to-date information on next year's conference by visiting our Annual Process Conference webpage. 2013 Attendees, we hope to see you again next year. Remember to use your discount code when registration opens!
If you have questions regarding this annual conference, please email saubrey@apqc.org.