APQC and ASQ Join Forces to Launch Ground-Breaking Quality Management Study
Research Delves into Proven Practices in Quality Management
(Houston, TX – May 12, 2011) – APQC and ASQ, two leading forces in quality, are partnering to conduct a best practice study on quality measurement set to launch in June. APQC, a nonprofit best practices and benchmarking firm, and ASQ, the world's largest network of quality resources and experts, will tackle measurement governance, process, and linkage to business value in the research study titled Harnessing Enterprise Quality Measurement to Create Business Value. To participate as a sponsor or learn more, visit www.apqc.org/measuring-corporate-quality.
The objective of the study is to:
Identify best practices and discover proven practices that organizations are utilizing to achieve success in enterprise quality management. This includes defining key characteristics of high performance in the topic area and associated business outcome measures that are linked to these characteristics.
Learn how successful organizations structure and support enterprise-wide quality initiatives, including the measurement, analysis, and reporting of quality across diverse business operations.
Support the creation of business value and discover ways an enterprise quality measurement system can support the creation of business value opportunities.
"This is a ground-breaking study that will employ APQC's award-winning benchmarking methodology with ASQ's leadership and dedication to the advancement of quality," said Travis Colton, project manager with APQC. "Our aim is to distill real-world best practices from industry-leading organizations. Participants get the knowledge they need to make major improvements in a fraction of the time and at approximately one-tenth the cost of conducting an external best-practice study on their own."
Organizations interested in serving as a research sponsor will receive first-hand knowledge and direct access to best practice organizations in quality management. They will:
Understand how a centralized quality management process can be organized to support an organizational-wide view of product/service quality.
Gain an understanding of how to link quality measures to core business objectives to support the creation of business and customer value.
Learn effective methods for measuring quality across a highly diverse organization.
Discover whether organizations are able to use quality measures as leading indicators of overall organizational success.
Examine the methods used by centralized quality management functions to promote a culture of quality at all levels of the organizations.
"Our members have told us that more research is needed on quality management best practices in this new, post-recession economy," said Paul Borawski, ASQ CEO. "We're delighted to have the opportunity to work with APQC on a study of this magnitude. The results will prove to be invaluable to the global quality community and business leaders worldwide."
About ASQ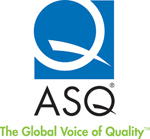 ASQ is a global community of people dedicated to quality who share the ideas and tools that make our world work better. With millions of individual and organizational members of the community in 150 countries, ASQ has the reputation and reach to bring together the diverse quality champions who are transforming the world's corporations, organizations and communities to meet tomorrow's critical challenges. ASQ is headquartered in Milwaukee, Wis., with national service centers in China, India and Mexico. Learn more about ASQ's members, mission, technologies and training at www.asq.org.
About APQC
APQC is a member-based nonprofit and one of the world's leading proponents of knowledge management, benchmarking, and best practices business research. Working with more than 750 organizations worldwide in all industries, APQC provides organizations with the information they need to work smarter, faster, and with confidence. Visit www.apqc.org or call +1 (713) 681 4020 and learn how to make best practices your practices.