Process Improvement and Measurement
We speak your language
Most process improvement professionals fight a constant tide of challenges: from budget constraints at the top to employees on the front lines who are reluctant to change. At APQC, our sole purpose is to help organizations work smarter and faster. It's why process improvement professionals rely on us every day. We don't just give you the measures, data, and tools to improve; we arm you with time-tested strategies and proven best practices to align process improvement efforts with business goals.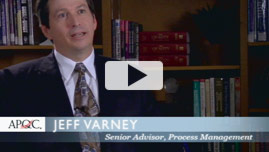 What excites me most about my work at APQC is working hand in hand with organizations and seeing them adopt these practices, apply them and really get the results.
Jeff Varney
Senior adviser, process improvement
Pioneers in process improvement and measurement
APQC was founded to help organizations improve. Since 1977 APQC has set the standards for measuring and elevating business performance. From a fast online assessment of processes, to a customized deep-dive analysis of an entire function across multiple geographies, to understanding drivers behind high performing practices, to trends and what leading experts are saying about best practices, we have data and expertise to solve your most critical challenges.
Frameworks and Maturity Models: Define the right road map for the right process.
Speed improvement efforts by ensuring that your processes are organized into a common framework that allows accurate measurement within your organization and the ability to speak a common process language with peers. With over 50,000 downloads each year, our Process Classification FrameworkSM (PCF) is the world's most widely downloaded process frameworks tool today. Leverage the PCF, and our other frameworks and maturity models based on three decades of research.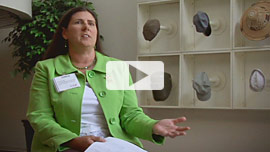 They're helping us find solutions maybe we didn't know we needed. It's a thorough, well-rounded organization we've enjoyed working with.
Gwen Nicholas,
El Paso Exploration & Production Company
Measures: Make sure they matter.
APQC's deep understanding of measurement aligns key performance indicators to activity measures with organizational objectives. Use our widely adopted standardized measures for functions and processes to benchmark, identify root causes, predict future outcomes, and measure productivity and other areas that are essential to organizational improvement. When the need calls for unique measures, we understand what it takes to create meaningful custom measures to guide your organization's journey to excellence.
Benchmarks: Find out exactly where you stand.
Whether you need immediate line-of-sight data or a custom assessment against a specific peer group, we have the tool for you. Assessment areas span the enterprise with more than 1,200 key performance and activity measures across more than 23 business functions. Learn more about the available APQC assessments.
Best Practices: Go from good to great.
Bring the lessons learned from best-in-class companies to your organization. Discover the specific drivers behind others' successful process improvement by tapping robust best practices from our Knowledge Base or through hands-on participation in one of our groundbreaking studies. For unique needs we can provide customized solutions from our team of process improvement experts.
Content and Community: Drive continuous improvement across your organization.
APQC membership gives you—and every employee in your organization—access to actionable benchmarks, best practices, case studies, expertise, and a network of peers so you can discover, understand, and implement the most effective methods for process improvement. Learn more about the benefits of APQC membership.
Contact us for more information.
Additional Featured Process Improvement and Measurement Content: