Freedom to Dream Courage to Act: The First Nine Decades of C. Jackson Grayson
Biography Released in Celebration of 91st Birthday in October 2014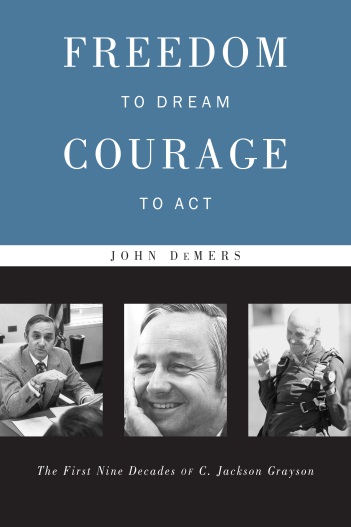 Jack Grayson has been a tireless advocate of quality and process improvement for over half a century and introduced the world to the concepts of best practices and benchmarking. This biography chronicles Jack's journey and captures the passion and essence of this remarkable, beloved man—still hard at work at 91 as he works to transform our US education system.
His vision and leadership have directly impacted thousands of organizations globally in his roles as:
founder and executive chairman of the American Productivity & Quality Center (APQC),
co-founder of The Houstonian Hotel, Club & Spa,
creator of the Malcolm Baldrige National Quality Award,
member of President Nixon's cabinet as Chairman of the US Price Commission, and
dean of business schools at Tulane and Southern Methodist University.
Going far beyond the boundaries of his business resume, however, Grayson formed his point-of-view through experiences as a farmer in Fort Necessity, Louisiana, a newspaper reporter, an FBI agent and a private pilot as well as a husband and father. He served the US Navy as a gunnery officer in the South Pacific during WWII, lived in Paris as a writer and lost his heart to a geisha. Throughout his colorful endeavors, Grayson's ninety-plus years are most notable for their reflection of his philosophy of freedom.
---
Be Inspired. Order Your Copy Today.
To order your own copy, please visit the publisher's website where books may be purchased for $17.47 per unit. To order multiple copies, APQC is able to extend our author pricing of $15.00 per unit for case purchases (22 units for $330.00 per case). Please contact Paige Dawson to order.
---
Learn How Jack Inspires Others.
"Mischievous and fearless, smart, tireless and driven, Jack is a force of nature out to transform the way we work, learn and even play. While it's hard to believe that one man could achieve so much and make such an impact on how we think, manage and invent the future, Jack will inspire you to do the same.
"Jack has been instrumental in creating the world's benchmark on benchmarking. With relentless energy and his ever growing global network he did not build an organization, but a true institution."
Peter J. Korsten, Global Leader Thought Leadership and Eminence, IBM Global Business Services
"Never content with the status quo, this academic gypsy, entrepreneur, author, public servant and patriot has pushed the boundaries of creative thought and action at every stage of his professional career. Every organization with which he has worked and the people within those organizations are better for his having passed their way."
Bobby B. Lyle founder, Lyco Holdings Incorporated
"Jack's dreaming is contagious and creates the desire to be a better human being."
Gregory H. Watson, Past Chairman American Society for Quality and International Academy for Quality
"You hold in your hands an entertaining life—Jack Grayson's—of headlines and study, reflection and action, experimentation and dogged application that laid a foundation for the principles of quality leadership. It is worthy of your time and thoughtful study."
Dr. Brent James, Chief Quality Officer, Intermountain Healthcare and Institute for Health Care Delivery Research
"The book provides a shining example of how to lead a full and rewarding life and is an excellent read for leadership and life skills."
Terry Holliday, Ph.D., Commissioner of Education, Commonwealth of Kentucky
"To meet Jack once is to be inspired by his optimism, vision and energy. This tale will inspire anyone to dream and, more importantly, to dare."
Paul E. Borawski, CEO (retired), American Society for Quality
"I never cease to be amazed by Jack's knowledge, productivity, enthusiasm and desire to change the business world."
Kenneth H. Cooper, M.D., M.P.H. Founder & Chairman, Cooper Aerobics Cente