After a week of pre-conference workshops and conference sessions, APQC's 19th Annual Knowledge Management (KM) Conference officially closed April 11, 2014. Thanks to everyone who helped make this event a huge success!
Whether you were with us or not, let's continue the KM conversation.
Browse Conference Highlights
Conference Summary | Session Overviews | Session Presentations (APQC members only) | Facebook Photo Album| Special Thanks | Conference Winners | Conference Brochure | Testimonials | Save the Date for 2015
---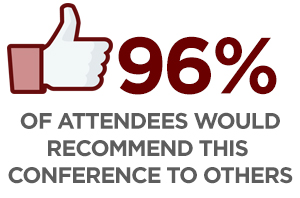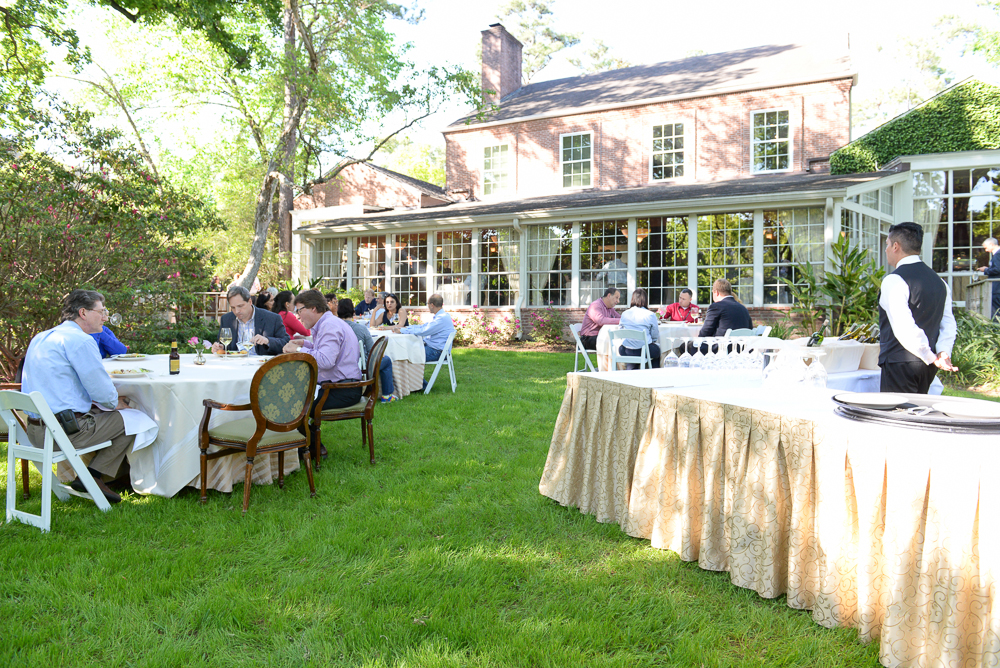 The sun was shining and the atmosphere was electric as more than 350 attendees exchanged ideas, best practices, and lessons learned to build and sustain their KM programs. The week kicked off with pre-conference KM workshops, mostly all filled to capacity. Workshop participants grew their understanding of KM core skills led by APQC's skilled instructors. At the end of the last workshop day, workshop participants joined together with conference attendees just getting into town for a conference kickoff reception at the historic Manor House on the grounds of the Houstonian Hotel, Club & Spa. The conference started bright and early on Thursday morning launching the theme, Improving Business Results Through Engagement & Collaboration, and many of the conversations focused on:
how to facilitate meaningful collaboration opportunities—especially across geographic and business-unit boundaries,
how to answer the "What's in it for me?" question and get employees excited about sharing knowledge, and
how to tie KM participation to metrics and business outcomes that senior leaders care about.
APQC CEO and KM expert Carla O'Dell kicked off the conference by unveiling n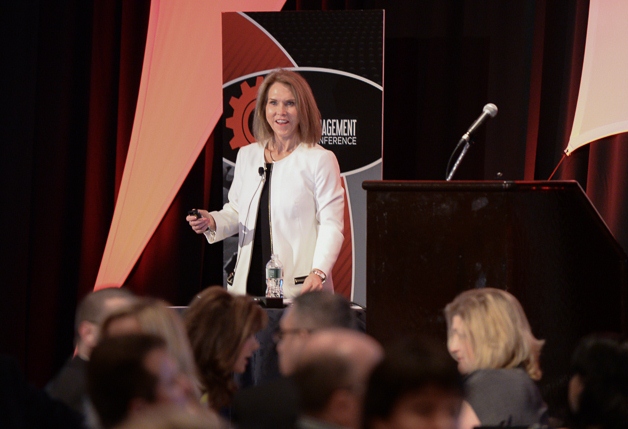 ew research on knowledge management in scientific, technical, engineering, and math (STEM) settings. According to O'Dell, many industries are facing shortages of experts able to run STEM projects and make tough technical decisions. While most firms emphasize education and recruiting to bring new STEM talent into the pipeline, APQC is looking at how organizations can better leverage the experts they have while, at the same time, accelerating learning and development for the next generation. O'Dell sees the looming crisis as an opportunity for KM to play a strategic role in an issue that will drive the future success of organizations.
She concluded by encouraging the audience to reach out to other functions inside their organizations and develop integrated strategies to leverage and develop technical experts. "The first step is to have a conversation," O'Dell said. "It is possible by bringing people together in dialog, and if you're willing to let the smoke clear, you have an opportunity to create a vision that's aligned. And when you do that, everybody wins."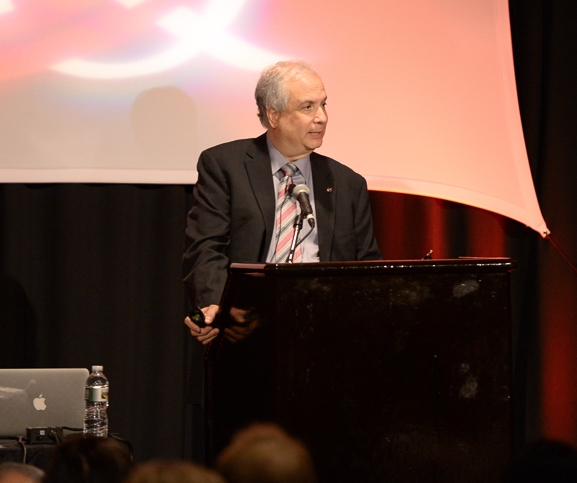 O'Dell was followed on stage by Ed Hoffman, NASA's first agency-wide chief knowledge officer (CKO). Hoffman began by outlining the challenges NASA faces with regard to knowledge, including the long lifespan and complexity of its projects. He went on to describe steps the agency has taken to achieve greater integration of its knowledge policy and direction, including bringing together CKOs from each NASA center and mission directorate in a community to exchange ideas and address shared challenges. NASA has also clarified roles and responsibilities related to knowledge capture and sharing and established a common vocabulary to describe KM approaches and outputs across the agency. The result is a more cohesive KM effort that yields increased value for the agency.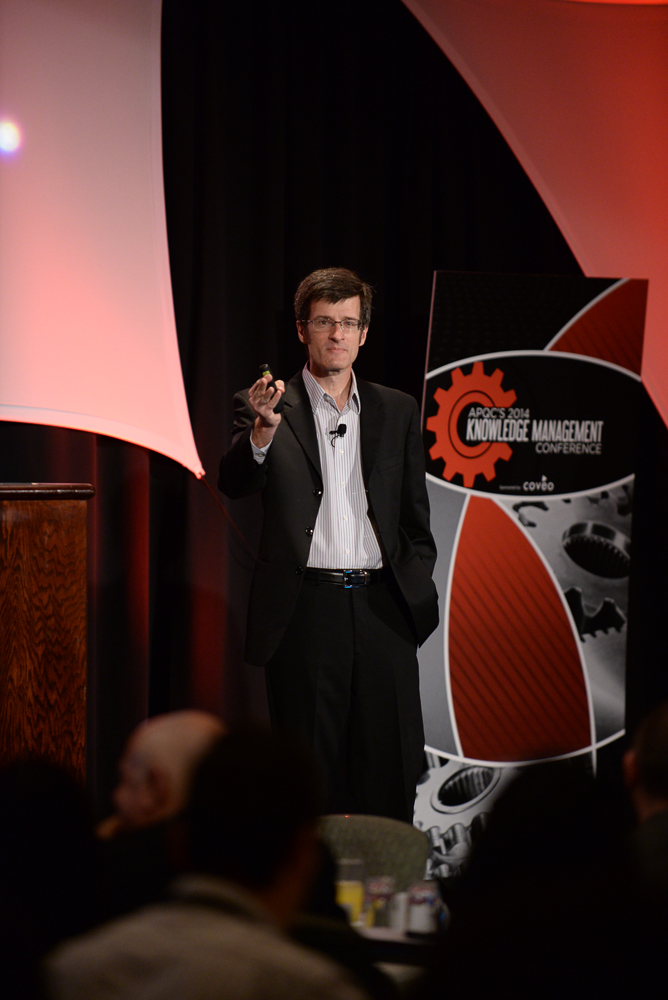 On the second day of the conference, Chip Heath energized the audience by exposing the biases and irrationalities that characterize human decision making. His talk, loosely based on his 2013 book Decisive: How to Make Better Choices in Life and Work, outlined a four-step process to counteract inherent biases and make better decisions. Among other recommendations, Heath talked about the importance of considering multiple alternatives, reality-testing assumptions, and preparing for the fact that some of our decisions will be wrong.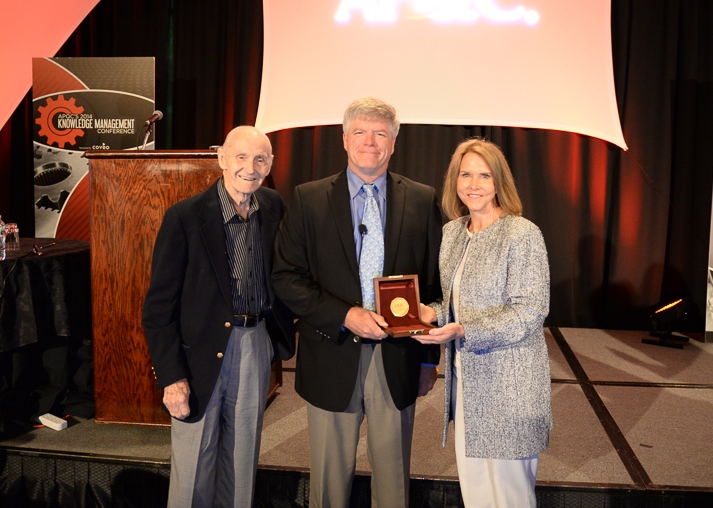 The final keynote speaker was Tom Davenport, President's Distinguished Professor of Information Technology and Management at Babson College. Davenport talked about his history as an early pioneer of KM as well as his more recent work on applying Big Data and analytics inside organizations. Picking up on a theme O'Dell touched on the beginning of the conference, Davenport encouraged the audience to start conversations with the analytics groups inside their organizations and determine how KM and analytics can collaborate to help firms make more informed, knowledge- and data-driven decisions. Davenport was also recognized for his outstanding leadership in the application of process improvement and awarded the 2014 C. Jackson Grayson Distinguished Quality & Pioneer award.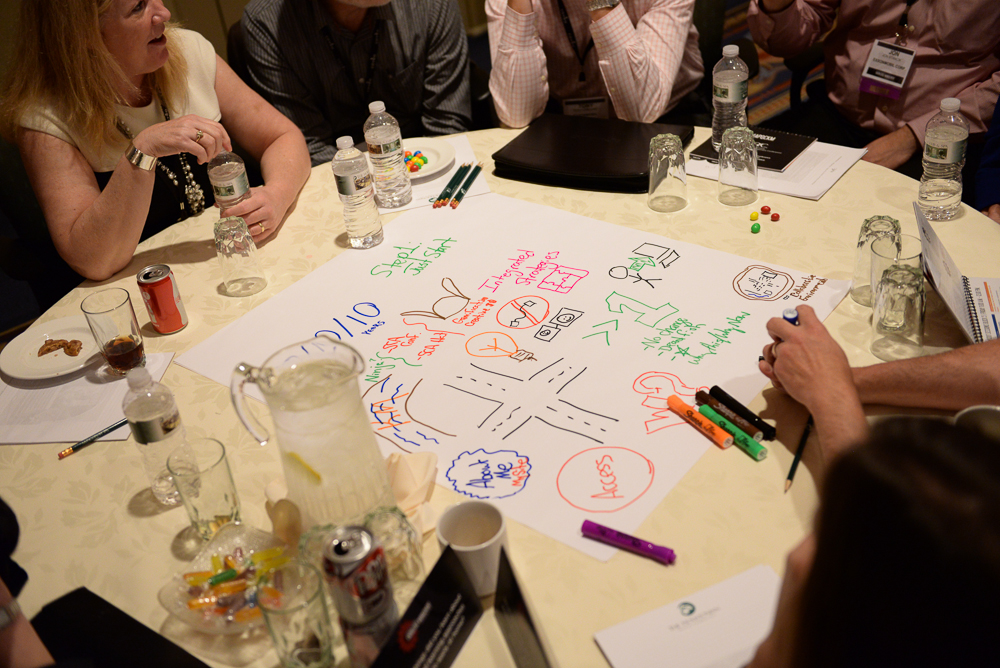 To wrap up the conference, attendees participated in a collaborative café where they organized themselves into round-robin conversation groups focused on different topics. The groups were given the freedom to collaborate how they wanted, but they were encouraged to talk about what they had learned over the two days and which new ideas and approaches they wanted to apply in their organizations when they got back to the office. Many teams took the opportunity to sketch their thoughts and represent their conversations visually.

Conference Sponsor
A special thanks to our exclusive 2014 Knowledge Management Conference sponsor! Coveo was a significant contributor to the rich

content that was presented during the conference. Coveo search and relevance technology harnesses information from anywhere and recommends knowledge and experts relevant to the context of users. Unlock your organization's collective knowledge and expertise to outperform, out-maneuver and out-nimble any competitor. Learn why the future of knowledge management is search-powered, visit www.coveo.com.
Steering Committee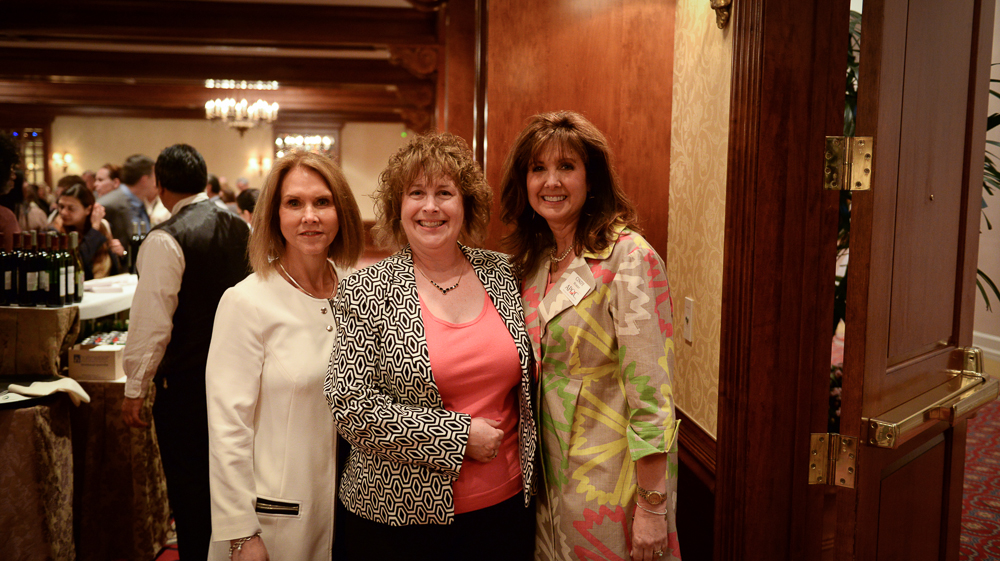 Another special thanks goes to our 2014 KM Conference Steering Committee. The following individuals were instrumental in driving the agenda and educational content of this event.
Amy Edwards, Deloitte Touche
Arturo Garcia, Grupo Bimbo
Daniel Flynn, Nalco Company
James Grey, Alcoa
Karen Lekowski, John Deere
Paige Kane, Pfizer
Phil Perry, Baker Hughes
Sylvester Rebello, Abu Dhabi Gas Industries (GASCO)
Thomas Shryock, Elanco
Tim Burneka, Trimble Navigation Limited

Congratulations to all of our conference prize winners. Thank you for participating!
iPad Raffle Winner
This year's iPad contest was sponsored by Coveo. Thanks Laurentiu Claudiu Petre from OMV-Petrom for participating in raffle. We hope that you are enjoying your new iPad.
Twitter Contest Gift Card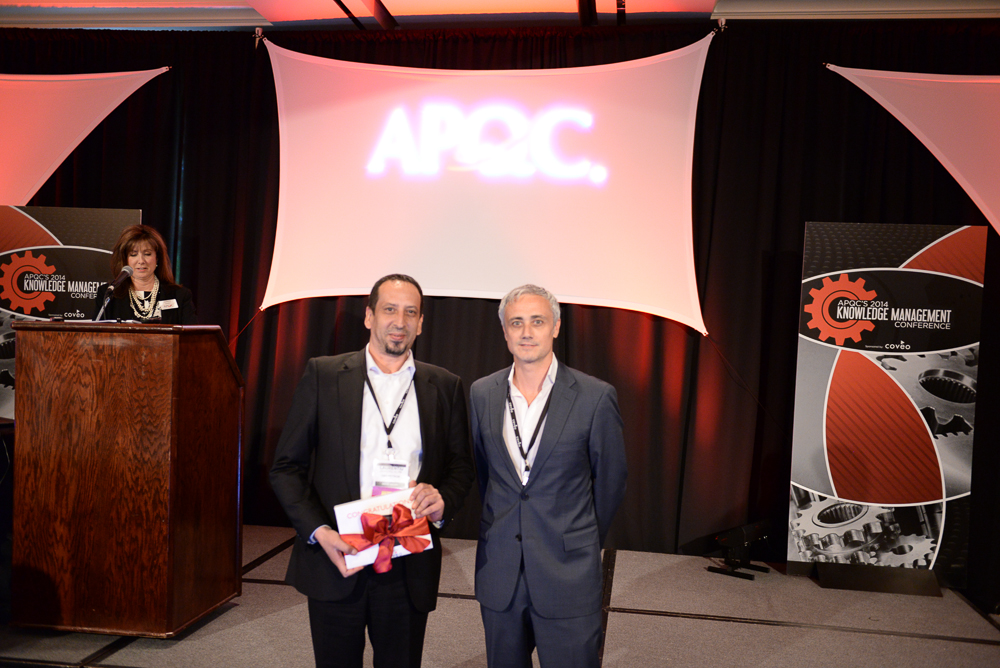 Valeria Hunter with BP and Daniela Talamantes with Grupo Bimbo each received $25 gift cards for participating in our Twitter contests during the conference . Congratulations ladies!
2015 Conference Ticket Winners
George Walz from Liberty Mutual was the winner of three free tickets to APQC's 20th Annual KM Conference happening April 27-May 1, 2015 in Houston, TX. We saw a lot of large groups at this year's conference; we are looking forward to seeing George and his colleagues next year.

Evaluations Contest Winner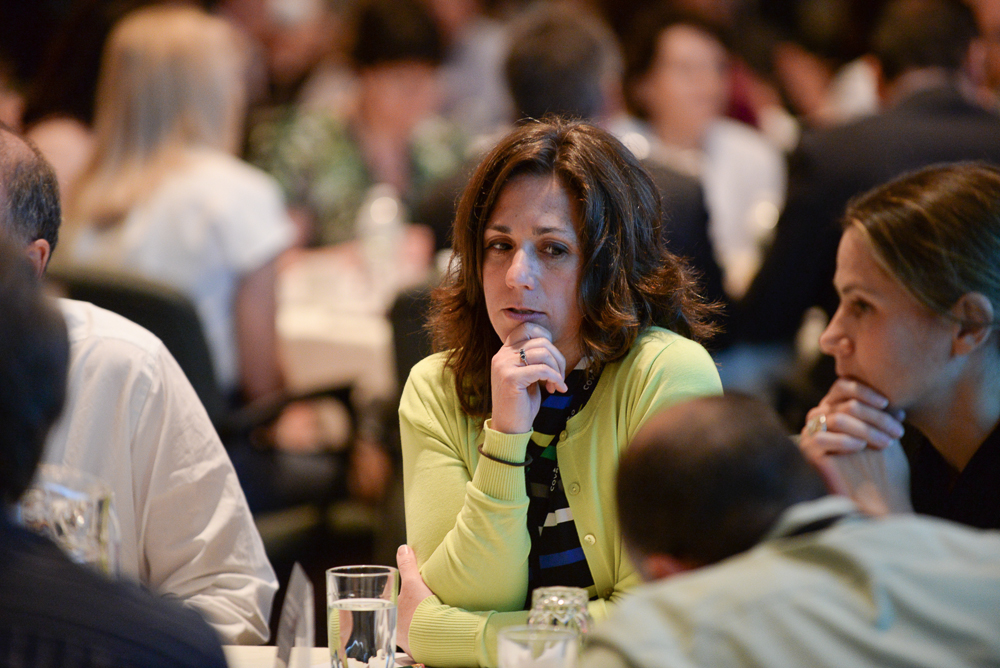 Congratulations, Stacy Heuer with Mead Johnson Nutrition. You were the winner of our evaluations contest! Thank you for your evaluation submissions.

"What I valued most was the ability to connect with others and understand that many of us have the same challenges to overcome! Learning how others have met those challenges was helpful and encouraging."
"This was an incredible opportunity to quickly come up to speed on KM fundamentals as well as network with a very diverse group of KM professionals"
"Carla's keynote and Chip Heath's keynote were the two best elements of the conference. Both topics were very relevant and the speakers were excellent."
"It's so good to know I am not alone in this venture and that folks are willing to help. The app really helped to plan, follow along, and rate sessions. Good support info, too."
"I really enjoyed speaking with others about their experiences with KM and communities of practice. Learning new ways of approaching and tackling the sticky points of implementation helped me engage. I left the conference feeling inspired to continue carrying the KM torch."
"The entire attending population consisted of people working in KM. Having all KM practitioners allowed me to build relationships with others who share the same KM problems."
"Good breadth of topics, deep understanding of knowledge management in practice, appreciated analytics, sharing of books and other documentation. The facility and the content of the conference made this the top of the conferences that I have attended."
"Someone tweeted loving how you learn so much here from all the attendees - not just the speakers and I think that summarized it very well."
"I have now attended similar events hosted by four different KM groups and APQC clearly is the most relevant to my company's version of KM."
"Attendees had a range of experience and I appreciated that topics were relevant for novice to expert."
"This is truly the best conference I've ever attended. I feel empowered to bring KM to a new level in my organization. Thank you!"


Get the most up-to-date information on next year's conference by visiting our Annual Knowledge Management Conference webpage. 2014 Attendees, we hope to see you again next year.
The call for speakers will open early fall. If you have questions regarding this annual conference, please email saubrey@apqc.org.