2013 Knowledge Management Conference Recap
After a week-long program of workshops and conference sessions, APQC's 18th Annual Knowledge Management (KM) Conference officially closed May 3 in Houston. KM practitioners from varying industries and locations came together to learn how the best of the best are applying KM to promote the development and sharing of new ideas and build strategic advantage.
Whether you attended the conference or you're
curious about what you missed, here's a recap
Conference Summary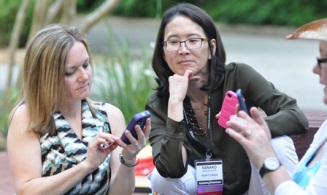 With just about 300 attendees, APQC's 2103 KM Conference, Using KM to Boost Creativity, Innovation, & Competitiveness, provided a relaxed, open setting, allowing attendees to connect and get to know one another on a more personal level and share openly about their professional experiences and challenges. Aside from the educational aspects of the conference, a little fun was to be had as well. Attendees showed up ready to party at our two networking receptions. On Wednesday, there was the Texas-themed Welcome Reception. There was great food, beverages, music, and activities, all with a little Texas flavor kicked in! And then everyone gathered again for the networking reception at the end of the first day of the conference. It was great to see knowledge sharing at its best.
After the first three days of pre-conference workshops (which set record attendance levels, by the way), APQC's CEO Dr. Carla O'Dell kicked off the conference by extending a welcome to all attendees. Carla's presentation was about making KM fresh. She talked about five classic knowledge needs and the importance of understanding the needs of your business. She touched on the expansion of the KM toolkit and how that opens up the possibilities for what KM can do. She announced the word of the year for KM—PERSONALIZATION—and shared four things you can do to personalize KM: embed it in the flow, fit the tool to the need, add social search, and make it fun! She also discussed new KM trends such as crowdsourcing and gamification. The three other incredible keynote speakers, all of whom captivated the audience with their keynote addresses, were David Eagleman, Charles Duhigg, and Matthew Heim.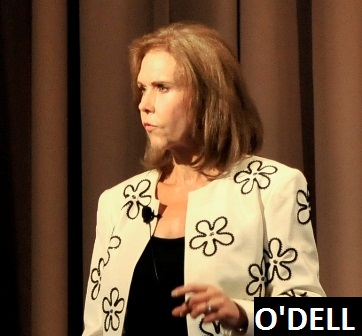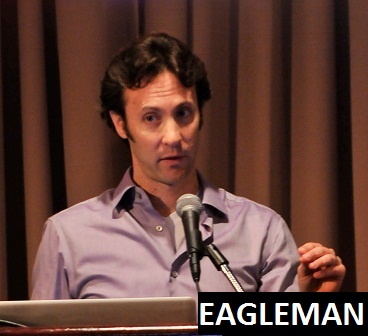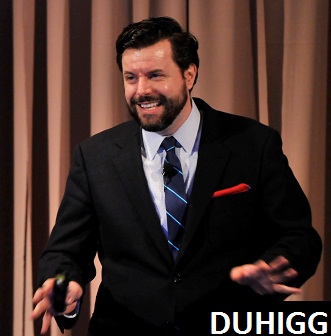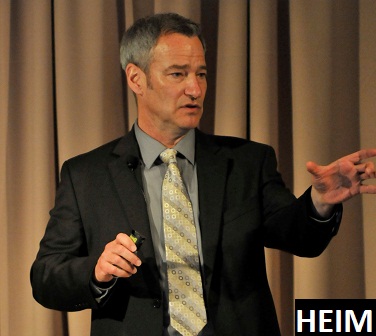 Dr. David Eagleman, renowned neuroscientist and bestselling author, applied his immense knowledge of the brain to shed new light on knowledge capture and sharing. He gave three lessons from history and two from the mind that impact KM. He recommended capturing what you know, telling it to others faster, and getting more people involved (crowdsourcing). In talking about the mind, he revealed that people don't always know what they know – putting people next to those with knowledge can facilitate a great deal of learning. And finally, he made the point that knowledge is not just one thing. You cultivate different points of view and you have to figure out ways to filter that information.
Charles Duhigg, the author of The Power of Habit, showed us that 45% of what we do is habit. To change habits within your organization, you must focus on the cues and rewards. Some habits matter more than others. Know what habits scare you, look for flexible opportunities, and know which habits contribute to organizational culture. Leadership is important to change habits; socialization often drives habits; and if you can diagnose a habit, you can change it.
Matthew Heim, executive vice president, Inno360, rounded out the conference by talking about the intersection of KM and open innovation. He divided open innovation into three categories: internal collaboration, existing network collaboration, and external collaboration. He talked about the top challenges of open innovation and integrating social media. Later on day two, Matthew led a panel discussion with APQC's Marisa Brown about how KM can help open innovation. Along with experts in open innovation Jean-Marc Frangos from BT, Dr. James Scott from Corning Incorporated, Stephen Townsend from Project Management Institute, and Sharon Wong from Cisco Systems, the audience engaged in conversation about how KM can support research and development (R&D), product development, and innovation.
Cindy Hubert, APQC's executive director, also led a general session focused on the best practices for enhancing culture and knowledge-sharing behaviors. She used roundtable exercises to review barriers that impede knowledge sharing; discuss cues and rewards associated with those barriers; and expand on approaches to identify, promote, and inspire knowledge.
In addition to these general sessions, 16 organizations shared their KM stories with our audience during breakout sessions. To learn more about KM initiatives at ConocoPhillips, Accenture, Nalco, Aspen Technology, and others, check out the presentations in APQC's 2013 Knowledge Management Conference Collection.
Conference Winners
Congratulations to all of our conference prize winners. Thank you for participating!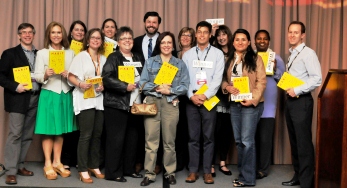 iPad Raffle
Thanks Tony Melendez with Marathon Oil for participating in our Twitter contest. We hope that you are enjoying your new iPad.
The Power of Habit Book Giveaway
These lucky attendees looked under their chairs for randomly placed winner signs and received a complimentary copy of Charles Duhigg's latest best seller.
Andrew Felton, ConocoPhillips
Caroline Hackney, Baker Hughes Inc.
Charlotte Holmlund, Suncor Energy Inc.
Valeria Hunter, BP America
Taffy Marsh, MNPS
Patricia Maruschak, Cenovus Energy
Olga Olivas, Grupo Bimbo
Alain Robitaille, SNC-Lavalin Inc.
Shelley Smith, Baker Hughes Inc.
Daniela Talamantes, Grupo Bimbo
Lois Wozney, Suncor Energy Inc.
$25 Restaurant Gift Card
Tom Sullivan with US Special Operations was the winner of a gift card to one of his favorite eateries. Congrats!
Texas-Themed Gift Bag
Tom Shryock with Elanco Animal Health tested his knowledge of all things Texas and won a gift bag filled with Texas goodies. Yeehaw!
$50 Gift Card Winner
And the winner is…
Congratulations, Clinton Coker with The Structure Group. You are the winner of our evaluations contest. Thank you for your evaluation submissions. Keep an eye out for your prize in the mail.
What Attendees Had to Say
"KM is really impacted and enriched by so many other fields and the conference really demonstrated that with the diversity of the presenters." - Kerry Timson, Bill & Melinda Gates Foundation
"I am new to my position and needed to become familiar with KM terminology and techniques and how they are being used in other industries. The conference exceeded my expectations. This was by far the friendliest and hospitable conference I have attended." - Dan Tutak, Chevron
"This was a good conference! Holding the training classes before the conference helped to establish acquaintances and build the foundation for much of the networking that took place during the week. One of the best conferences I've ever attended." - Matthew Neal, Amgen
"I really enjoyed the keynote speaker presentations and most importantly the networking that happens from this event. APQC keeps setting the bar higher every year. Job well done!" - Julio Hinojosa, Baker Hughes
"This is hands-down the best conference I've ever attended. The keynote speakers were excellent; the other participants were friendly and chatty during breaks; the conference was well-organized and presentations were engaging, thoughtful, and relevant." - Marisa Connell, Northrop Grumman
"I have been to other conferences before, and NEVER have I walked away having learned so much!" - Kim Duffle, Chesapeake Energy
"Overall this was a great conference –fantastic work from the APQC team. You guys are great, and I hope to see you all again soon!" - Thomas Hsu, Accenture
"This was a good conference for learning and networking." - Pankaj Desai, BP
"As I typically find with APQC, there is a wealth of information and steady stream of inspiration which leaves me brimming with ideas and excitement. I do not want to come down from my conference high!" - Caroline Hackney, Baker Hughes
Twitter Comments from the Conference
Search #apqckmconf on Twitter to see more.
*sigh* my iPad 's auto correct insisted that wikithons should be corrected to wiki thongs lol #apqckmconf
Best part of any conference (besides the sessions, of course)! #apqckmconf #houstonian #dessert pic.twitter.com/sWgf9g39BE
Imagine if all our knowledge was lost and we only had to go on was the bible, Harry potter, and twilight - David Eagleman #apqckmconf
Mind has been completely filled! Having a very positive experience at the APQC KM Conference. #apqckmconf
Last session of a very busy & info intensive day at #apqckmconf - brain almost overwhelmed!
#apqckmconf Great conference so far; Carla O knocked it out of the park this morning. And it was great to hear her refer to our "Sherpas".
I am @APQC enjoying the #apqckmconf especially Cindy and Carla to start the day
2014 Conference

Get the the most up-to-date information on next year's conference by visiting our Annual Knowledge Management Conference webpage or by downloading the KM Conference App.