2012 Process Conference Recap
Thank you for attending APQC's 2nd annual Process Conference! We had more than 100 process practitioners from organizations around the globe in attendance, making this event a huge success. Our keynote and breakout session speakers shared insightful stories of inspiration, success, and lessons learned. We hope you benefited from the fantastic content provided during this meeting. If you missed out on something or simply wish to re-live parts of this year's conference, click on the links below.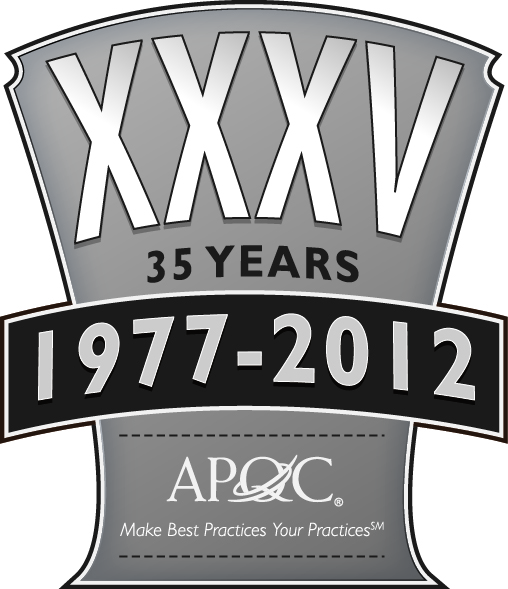 ---
Thanks to our members for Their Continued Support
During this year's conference, APQC recognized the following organizations celebrating 5 and 10 years of membership.
African Development Bank (5 years)
Department of National Defence, Canada (10 years)
Hellenic Aerospace Industry SA (5 years)
Marsh & McLennan Companies, Inc. (5 years)
Petrobras SA (10 years)
United Illuminating Company (5 years)
US Department of State (10 years)
Vale (5 years)
---
Thanks to Our 2012 Sponsor

Delivering strategic services and solutions for process frameworks, governance, process intelligence, application portfolio management, and Enterprise Architecture. Visit www.visualeabpm.com to learn more.
---
Tell Us What You Thought
APQC wants to know what you liked most about the 2012 Process Conference and what we could do to improve it for future years. Please take a few minutes to share your comments at www.apqc.org/feedback.