2011 C. Jackson Grayson Quality Pioneer Medal Winners
The judges selected the 2011 winners of the C. Jackson Grayson Distinguished Quality Pioneer Medal from nominated candidates who have made extraordinary contributions to furthering the cause of quality and process improvement in a variety of non-traditional organization and sectors. They have used management processes, measurement activities and collaborative teamwork to achieve productivity and other beneficial enhancements to many organizations' performance and mission.
The 2011 Winners of the Grayson Medal are:
Dr. Frank K. Toda, President, Colombia Gorge Community College
Dr. Thomas C. Tuttle, President, The Tuttle Group International

Dr. Frank K. Toda
President of Colombia Gorge Community College

Dr. Frank K. Toda is an exceptional role model for educators in terms of his personal commitment to the pursuit of excellence in his organization. A pioneer for activities related to standards and quality, he has been recognized for his success in both the military, earning accolades for the implementation of quality programs and contributions which saved millions of dollars, and in education, applying lean process management to assure the austerity and profitability of his programs at Columbia Gorge Community College, where he serves as President. Additionally, he is devoted to awarding others for their dedication to excellence, having served for years as a member of the Malcolm Baldrige National Quality Award Board of Examiners.
Dr. Toda strives to develop the community college into a National Center of Excellence in education through the application of quality methods. As part of this, he has created a board of advisors comprised of academia and industry executives from organizations such as Microsoft, Boeing, and Raytheon. This board meets regularly to discuss and advise on methods to improve the quality in educational and operational programs at the college.
For outstanding commitment in advancing the knowledge and application of quality in the military, pioneering the application of quality at Colombia Gorge Community College, and steadfast commitment in promoting the cause of quality through extensive volunteer activities of the Malcolm Baldrige National Quality Award and the American Society for Quality, we are proud to honor Dr. Frank Toda.
Dr. Thomas C. Tuttle
President of Tuttle Group International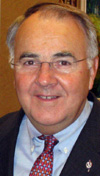 A lifetime advocate of quality and productivity through strategic change, Dr. Tuttle has extensive experience in helping assess, measure, and improve the performance of service organizations. As Director of the University of Maryland Center for Quality and Productivity (UMCQP), a role in which he served for 26 years, Dr. Tuttle helped organizations implement Total Quality (TQ) and strategic organizational change. Through the Center he was able to improve the competitiveness and aid in the generation and maintenance of quality jobs in Maryland. One of the Center's core competencies, the development and application of quality and productivity measurement systems, supported organizations such as the U.S. Air Force, Black and Decker, and the Internal Revenue Service. During this time he also chaired the U.S. Senate Productivity Award and Maryland Quality Award Program, from its inception in 1983 to 2004. Through this role he has helped worthy organizations gain the recognition they deserve, and champion the cause of quality and organizational performance.
After his retirement from the university in 2004 Dr. Tuttle formed the Tuttle Group International, providing strategic management consulting, facilitation, and training to leaders of organizational change and improvement. He continues to conduct Baldrige training for examiners in the state Performance Excellence Awards.
We are proud to honor Dr. Tuttle for his dedication to serving and acknowledging organizations everywhere who strive to achieve continuous process improvement and development for enhanced quality and efficiency in the workplace.