Supply Chain Management
Optimize supply chain performance
With much of an organization's costs tied up in its supply chain, the stakes are high when it comes to decision making, and there's no time to waste. Are inventory turns at acceptable levels? What is the supply chain's impact on cash flow? Should you outsource? What will the cycle time impact be? Questions like these can mean millions of dollars to your bottom line. Supply chain professionals look to APQC for answers to help strengthen and streamline their operations.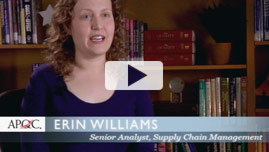 While there are a number of companies who offer expertise in the supply chain area, APQC is unique in that we have the data to back up our knowledge.
Erin Williams
Senior analyst, supply chain management
Find solutions to your most pressing problems.
APQC is your single source for proven decision support tools. APQC ties meaningful measures to the supply chain and focuses on understanding and helping organizations implement best practices. From a fast online assessment of processes to a customized, deep-dive analysis of an entire function, we have data and expertise to solve your most critical challenges.
Benchmarks: Find out exactly where you stand.
Whether you need immediate line-of-sight data or a custom assessment against a specific peer group, we have the assessment tool for you. Assessment areas include supply chain planning, procurement, manufacturing, logistics, and product development.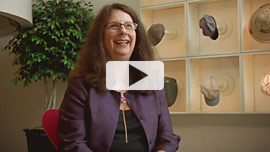 The supply chain group has gotten a lot of value from our membership with APQC. Both in being able to go into the Knowledge Base, but also actually consulted with APQC on specific areas of supply chain that we wanted to get additional help on.
Susan Rosenbaum,
Schlumberger
Best Practices: Go from good to great.
Bring the lessons learned from best-in-class companies to your organization. Discover the specific drivers behind high performance in the supply chain with content from our Knowledge Base or by participating in a best practice study. Recent studies have focused on reverse logistics and inventory optimization.
Content and Community: Drive continuous improvement across your organization.
APQC membership gives you—and every employee in your organization—access to actionable content, expertise, and a network of peers so you can discover, understand, and implement the most effective methods for productivity and improvement in supply chain management. Read more about our SCM Membership.
Read our latest thinking on Procure to Pay.
Real-world success in the supply chain. View how Thomas Steel used APQC's data to transform its supply chain operations.
Additional Featured Supply Chain Management Content: