Open Standards Research FAQ's
Open Standards Benchmarking Frequently Asked Questions
This information is also available as a PDF file.
General Information
What are the Open Standards Benchmarking assessments and why would I want to use this data?
The Open Standards Benchmarking assessments are our most comprehensive benchmarking assessment tool. It gives participants a detailed report reflecting activity-level performance against multiple peer groups. Data is collected over 23 functions representing 120 processes with more than 1,200 performance indicators and over 7,200 global participants.
What's the difference between the Open Standards Benchmarking assessment and the Rapid Performance Assessment tool?
Open Standards Benchmarking
Rapid Performance Assessment
Detailed metrics for each functional area
High-level KPIs only
Comprehensive assessment
Shorter assessment
One-weekvalidation/three-week reporting time
Four-hour validation/two-day reporting time*
Total time = approximately two-three weeks
Total time = two days
Robust report with industry, cross-industry,
revenue, and region peer groups
Sumary report with industry, revenue,
and region comparisons
* pending validation
How does APQC's Process Classification Framework (PCF) relate to the Open Standards Benchmarking Assessments?
The PCF is the world's most widely used process framework. It serves as the structure to the assessments and gives organizations standardized definitions for functions, processes, and activities independent of structure.
How can I use APQC data in my organization?
Organizations complete the Open Standards Benchmarking assessments in order to:
set annual budgets,
target top priorities for improvement projects,
benchmark internally across multiple business sites,
identify the enablers of best practices and top performance,
analyze current processes, and
set baselines for Six Sigma or ERP projects.
Do I need to agree to any terms and conditions?
Yes, as a member you will be agreeing to APQC's terms of use. Download the Terms of Use.
How will my organization's name be used?
APQC will never associate any organization's name with their data. We will list your organization's name on a representative list of all Open Standards Benchmarking assessment participants. If your organization requires confidentiality, please contact Cathy Hill at chill@apqc.org or +1-713-685-4652. We do not accept submissions without the name of the company that is being benchmarked.
How much do the assessments cost?
APQC members have unlimited rights to submit data within their membership level and it is included in their membership. Nonmembers pay a fee of $5,000 per assessment. For more information on an APQC membership, visit www.apqc.org/membership.
Accuracy, Validity, and Timeline
What do I do if I make a mistake?
If you have yet to submit your benchmarking assessment, you may change your answers at any time in the Benchmarking Portal. If you find an error after submission, please content the Help Desk at +1-713-681-4020 or apqcinfo@apqc.org. They will be able to manually correct the error on your behalf and provide additional guidance.
What is APQC's validation process?
APQC uses a logical and statistical validation process to ensure all data is accurate and reliable. Validation steps include response logic checkpoints, data quarantines, participant verification, and issues resolution. In addition, all metrics are normalized and aggregated to ensure the data is accurate and relevant.
How long will it take to receive a benchmarking report after I've submitted my assessment?
Upon submission, APQC begins the validation process that varies on time based on the extent of questions and the response time of participating organization. Reports are generally issued within two weeks. Please contact the Help Desk at +1-713-681-4020 or osb@apqc.org if you have an extenuating circumstance requiring a faster turnaround.
How long will it take to complete an assessment?
This will be dependent on how readily available your data is. Our estimate is eight hours to one week depending on the level of maturity with the benchmarking process within your organization.
Confidentiality
Will APQC keep my data confidential?
As a nonprofit research organization, APQC is the sole custodian of the database, guaranteeing objectivity and confidentiality. As the authors of the widely adopted Benchmarking Code of Conduct, APQC subscribes to the highest levels of confidentiality. All information provided remains confidential, and names of participating organizations are not associated with specific data.
Where is the report sent once completed?
APQC will provide the report directly to you. You are not allowed to share or use the report outside of your organization.
Reporting and Peer Groups
What format will the report be in?
The final report is in Excel allowing you to customize the data for the specific needs for your organization (charts, graphs, highlighting, etc.).
Do I have to enter my data in US Dollars?
No, monetary metrics can be provided in your local currency. The final report, however, will report out in US Dollars.
What are the top, bottom, and median performers?
Definitions are as follows:
Top Performer—represents the performance level where 75% of all responses fall below
Median Performer—reflects the value below and above where this is an equal number of values

Bottom Performer—reflects the performance level where 25% of all responses fall below
What peer groups are provided?
Peer groups are available in:
industry

revenue range

region

all participants
How are the peer groups determined?
Peer groups are based on APQC standards. Industry peers are segmented into clusters based on their The North American Industry Classification System (NAICS) code. Region peer groups are segmented by; Europe, Middle East, and Africa (EMEA), Asia and Pacific (AsiaPac), and North and South America (Americas).
What if I want different peer groups?
If you have submitted an assessment there is a nominal fee for creating custom peer groups of the data.
How do I know if you have data for my industry?
The Benchmarking Portal Resources page contains demographic sheets that we update once a quarter. Or for more detailed information contact Cathy Hill at chill@apqc.org or +1-713-684-4652.
Getting Started
What is the process for getting started?
(You must be a registered user on the APQC Web site with your corporate email address in order to be associated with your member organization.)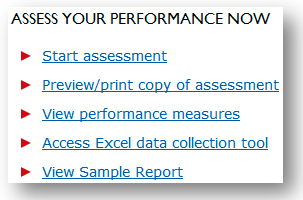 "View performance measures" for a list of the measures and metrics the assessment reports out on.
"Preview/print copy of assessment" to see the assessment's questions and how they map back to the metrics. It also contains hyperlinks to glossary pages to see definitions of terms used in the assessment.
"Access Excel data collection tool" to provide to your clients to aid in data collection.
"View sample report" to provide to your clients an example of the deliverable format.
"Start assessment" to submit the data on behalf of your clients.
Upon submission, APQC will contact you within 3-4 business days with a validation email. This email will highlight any questions we have regarding your data that may need clarification or correction.
Responding within a one week ensures that you will receive a report within the estimated two-week timeframe.
Upon validation submission, you will receive your report after three or four days.
Data Requirements and Licensing Options
How much of the assessment needs to be completed?
Participants must complete at least 75% of the metric questions to receive a report. Responses are only provided on the questions for which data was submitted. The assessment must also pass the validation process. Until APQC is able to complete the validation process a report cannot be issued.
What if I can't complete 75% of the assessment?
APQC offers two other ways to receive benchmarking information, through Rapid Performance Assessments or Benchmarks on Demand. Rapid Performance Assessments are a subset of the Open Standards Benchmarking Assessments and include high-level key performance indicators (KPIs). Benchmarks on Demand offer you the ability to download benchmarks online with no data input required.
What tools are available to aid me in completing the assessment if I have questions?
About APQC
APQC is a member-based nonprofit and one of the leading proponents of benchmarking and best practice business research. Working with more than 500 organizations worldwide in all industries, APQC focuses on providing organizations with the information they need to work smarter, faster, and with confidence. Every day we uncover the processes and practices that push organizations from good to great. Visit us at www.apqc.org and learn how you can make best practices your practices.