Membership Types
Members access resources, knowledge, and benchmarking tools across APQC's core functional areas and via several membership types. You can choose the one that best suits your organization's needs—functional for specific teams or all-inclusive for your entire organization's improvement efforts.
Functional membership options include: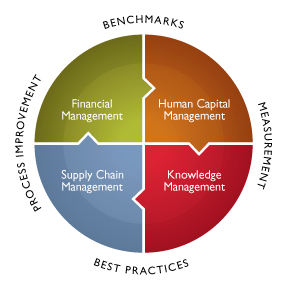 An All-Inclusive Membership grants every employee in your organization unrestricted access to APQC's benchmarking tools and assessments, our Knowledge Base full of best practices, and a network of peers and subject matter experts.
Consulting and services organizations can benefit from a Professional Services Firm Membership, which provides access to leading-edge content and expertise to help your clients discover, understand, implement effective methods for improvement.
As part of our commitment to bringing process and performance improvement to education, we also offer significantly discounted memberships for educational institutions.
Attend a membership webinar or contact us to learn more about APQC membership.