Open Standards Benchmarking Human Capital Management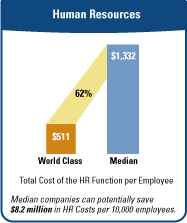 In today's global war for talent, managers of human capital have a tremendous challenge: Attract and keep the best people, and make sure they have the right skills and knowledge for the organization to thrive. New markets, new customers, and new supply chains all require new approaches to employee management.
APQC's Open Standards Research assessments provide the performance yardstick that HR executives can use to measure their performance and spur innovation.
Assessing human capital management (HCM) practices makes it possible to define superior performance and draw meaningful comparisons with world-class organizations. It supports detailed recommendations and best-practice implementation plans. Assessing and comparing these activities against relevant peer groups' will allow you to identify ways to improve internal work processes that enhance quality, productivity, and customer service in all key HR areas.
Extend your lead over the competition by joining more than 1,800 of your peers using the following human capital management assessment surveys.
After completing your assessment, APQC will validate your information (as needed) and send you a detailed report that compares your responses with those of your industry peers and with median and top performers.
APQC's human capital management assessment surveys are part of a larger initiative called the Open Standards Benchmarking CollaborativeSM (OSBC). Using APQC's Process Classification Framework (PCF) as the foundation, APQC has identified the critical set of human capital management performance indicators to accurately measure performance in each process area.