Dr. Carla O'Dell
Chief Executive Officer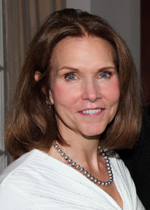 Carla O'Dell, chief executive officer of APQC, is considered one of the world's leading experts in knowledge management (KM). In 1995 and under O'Dell's direction, APQC launched its first KM best practices consortium study, "Emerging Best Practices in Knowledge Management." Thirty-nine organizations sponsored the groundbreaking study. Since then, APQC has conducted more than 25 consortium studies on topics related to KM, involving more than 500 participating organizations and producing the world's largest body of actionable best practices in designing, implementing, and measuring KM. APQC was the first nonprofit organization to be awarded the Global Most Admired Knowledge Enterprise (MAKE) award.
O'Dell and APQC's chairman, C. Jackson Grayson, co-authored If Only We Knew What We Know: The Transfer of Internal Knowledge and Best Practice (The Free Press 1998). A very highly-rated speaker at conferences, O'Dell is also an active contributor to leading journals and magazines. Most recently, she and APQC's Cindy Hubert have received rave reviews for their new book The New Edge in Knowledge: How Knowledge Management Is Changing the Way We Do Business (Wiley 2011).
As chief executive officer of APQC, O'Dell was a key driver in the formation of the Open Standards Benchmarking CollaborativeSM research (currently Open Standards Benchmarking), which standardized the processes and measurements that global organizations use to benchmark and improve performance. This data allows organizations to compare their own performance against peer groups and across their industries. Over 9,000 organizations worldwide have participated to date.
O'Dell has a bachelor's degree from Stanford University, a master's from the University of Oregon, and a doctorate in organizational psychology from the University of Houston. She is an avid hiker, with a goal to hike all the U.S. National Parks. Like Jack Grayson, she has visited every continent—she even snuck into Antarctica with a broken foot. One of her jobs at APQC is to watch for trends that will matter to the organization and its customers. She invites you to contact her if you see one we shouldn't miss.