How to Differentiate on Fees Without Lowering Your Rates
The rise in sophistication among buyers of consulting services isn't just changing what they'll buy or what they prioritize when forming and narrowing down short lists (as we've reported in this blog the last two months). Today's clients are radically changing how they expect to pay for consulting services.
For the last decade (though the trend probably goes back far longer), just under half of consulting clients told me they preferred buying consulting projects on a time/material basis (to be able to stop a project at any point if consultants weren't delivering as expected); and, the other half of them preferred project-based or fixed-fee billing as to avoid project creep.
The remaining clients (usually not totaling more than a few percentage points) told me they were experimenting with various permutations of value-based billing. Paying for outcomes is compelling. On paper, it makes sense to tie the cost of a project to the cost savings or new revenue generated or some other measurable outcome. But the devil was always in the details.
Historically, value-based billing was rarely used because clients were worried about:
starting a project, not knowing how much it would cost;
consultants potentially low-balling expectations to ensure hitting certain performance thresholds; and/or
the potential headache in measuring the outcome to determine the project fee.
But as more former consultants have become buyers of consulting services, they seem to have gotten past that anxiety. APQC surveyed 69 buyers of consulting services about their billing model preferences and more than one in five (21 percent) now say they prefer value-based approaches. That's more than the 19 percent of clients who say they prefer the more traditional time/material model.
How Buyers of Consulting Services Feel They Get the Most Value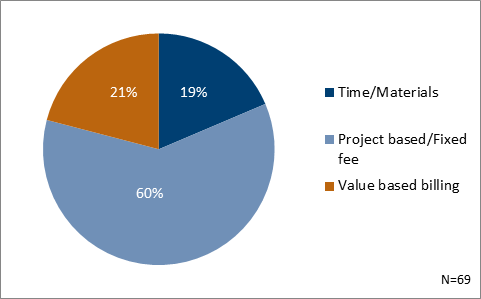 We suspect that part of the reason for the change is that too many clients have felt burned by consultants who dragged out projects, milking every last billed hour. But the rise in value-based billing is a big deal. It means that consultants now need to be ready to really stand behind their work and bill accordingly. And it gives consulting firms a potential ability to differentiate on fees (by creatively tying it to the project's outcome), without necessarily lowering rates.